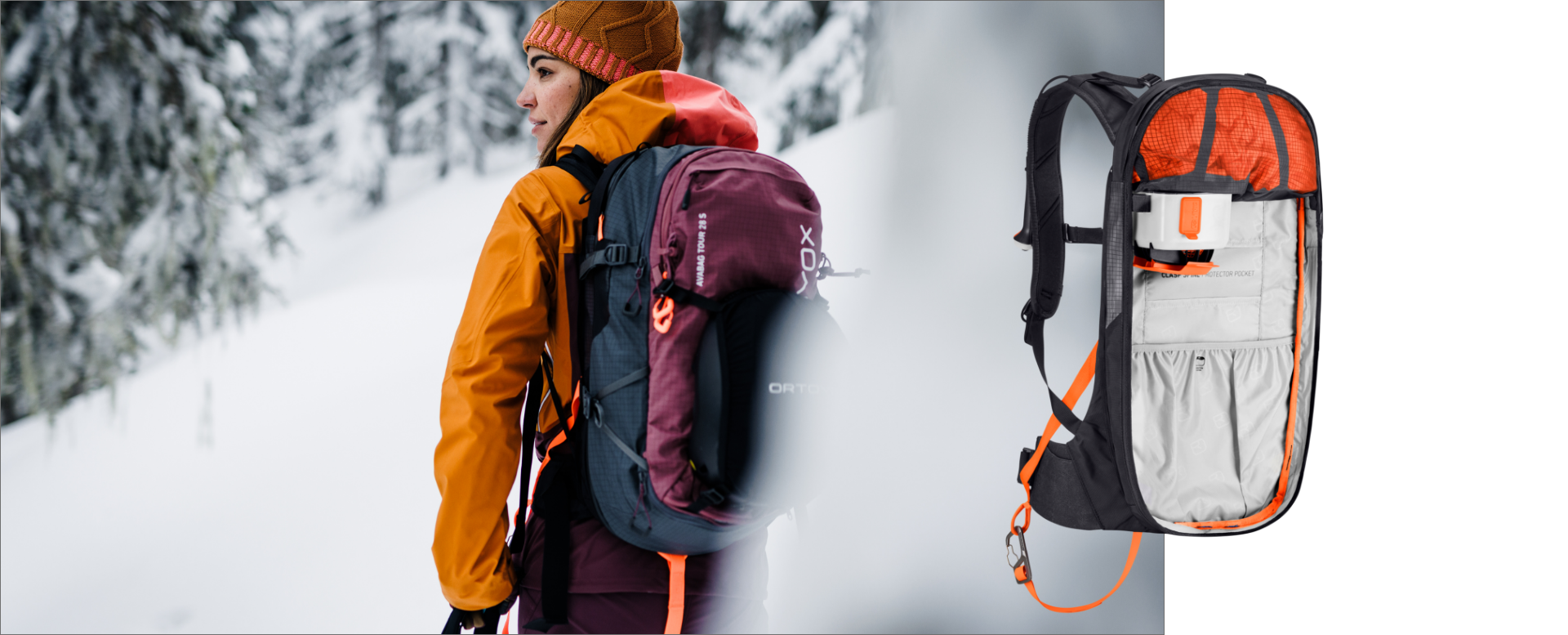 Want to travel with your ORTOVOX AVABAG LiTRIC avalanche backpack? Here is all the information you'll need to consider when travelling by plane.
ELECTRONIC ORTOVOX AVALANCHE AIRBAGS
The following information applies only to AVABAG LiTRIC models (electronic systems). If you have an avalanche airbag with a cartridge, please see here.
TRAVELLING BY AIRPLANE
Because your ORTOVOX AVABAG LiTRIC avalanche airbag system contains supercapacitors and a small lithium-ion battery, the airbag is classed as "dangerous goods" by the International Air Transport Association (IATA).
However, there is a list of certain products that are authorized by IATA, and our avalanche airbag is included in this list. Every IATA member airline knows this list and can allow the backpack to be transported.
The LiTRIC avalanche airbag is designed to be used as personal protective equipment (PPE) and NOT as a luggage item. Classified as an electronic device powered by a fixed lithium-ion battery:
Nominal capacity of the lithium-ion battery: 3.7V / 2000mAh / 7.4Wh
Capacitor energy storage capacity: <0.3Wh
For personal use of the LiTRIC avalanche airbag, no transport documents are required for air travel and carriage in the aircraft.
Please note: Airline and country-specific travel and carriage regulations can vary and may be governed by additional requirements or restrictions. It is therefore strongly advisable to check current travel and carriage regulations with the relevant airline prior to departure, as well as country-specific entry and exit regulations. Therefore, it is important to inform the airline before booking and provide them with the extract from the IATA table as well as the data sheet for the cartridge. These documents are available to download at the bottom of this passage. Permission to transport an avalanche backpack on a plane is not guaranteed!
OUR RECOMMENDATIONS
FOR SAFE TRANSPORTATION ON PUBLIC TRANSPORT
Our recommendations for safely transporting your ORTOVOX AVABAG LiTRIC avalanche airbag on an airplane or other public transport are as follows:
Before transporting the LiTRIC system it must be switched off and the entire LiTRIC avalanche airbag must be secured against accidental activation (you can find how to do this in the instruction manual).
No transport documents are required for travelling with the LiTRIC avalanche airbag.
Take your LiTRIC avalanche airbag on the plane with you (as carry-on baggage). Do NOT check it into the hold (as checked baggage).
Because the LiTRIC system is battery operated, the warnings (see point 1 of the instruction manual) must be observed before transport!
Prior to traveling, it is also advisable to familiarize yourself with local requirements for taking the backpack on public transport.
Any Questions?
If you have any other questions about how to safely and legally transport your ORTOVOX avalanche backpack on an airplane, please contact us using our contact form.

DOWNLOADS
AVABAG LiTRIC Air Travel Sheet
IATA table
Instructions for use